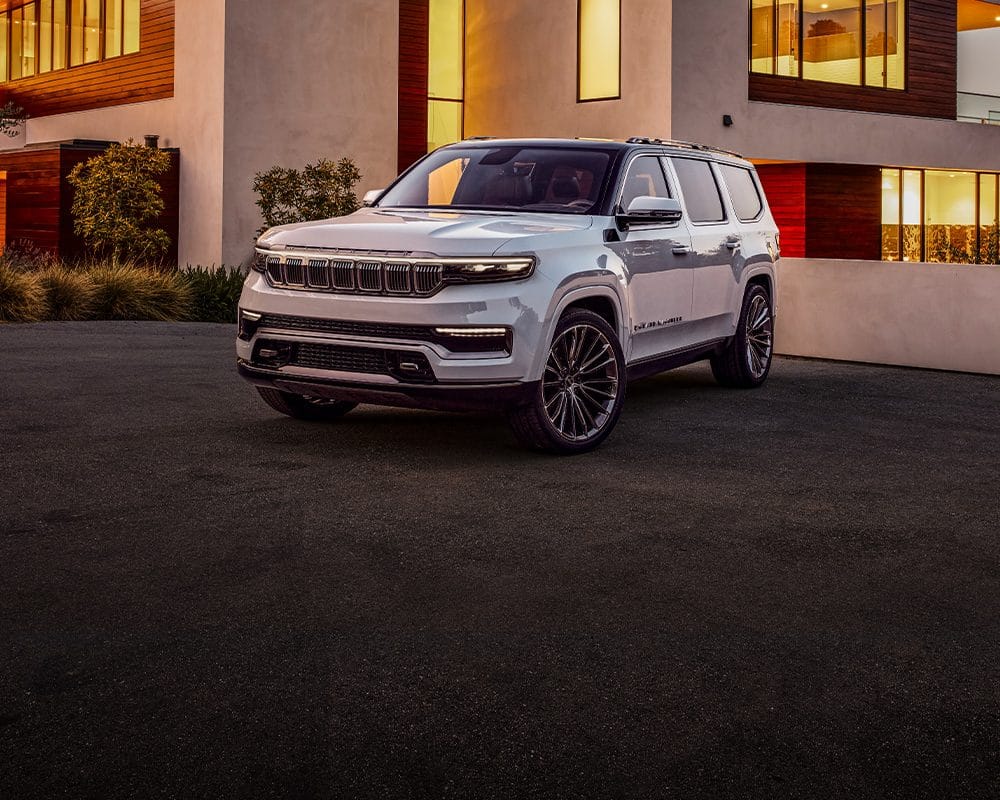 Return of the Jeep Grand Wagoneer
Brought to you by Charlie's Dodge Chrysler Jeep Ram
As you're probably aware of by now, Jeep has just introduced a new concept to the world! While this model is not being produced, this is a great way to gauge what Jeep is working on behind the scenes. You can tell that Jeep is looking towards the future and how they want to continue to expand and ensure that their lineup is going to compete. What makes the Jeep Grand Wagoneer is special is the fact that it has three-rows of seating, and it works hard to keep some of the features you love best from the original model. Our intention is to share with you what Jeep has included in the Grand Wagoneer, and show off what the designers and engineers have done in order to make this vehicle a possibility. Keep reading down below where we go more in-depth about what you can expect to get out of this concept SUV.
What electric technology is being used?
You've probably heard about what Jeep is doing with the Wrangler, and the available 4xe model that they're adding in. The goal from Jeep is to make sure that the Jeep brand is the leader in eco-friendly premium technology, which in this case means a steady shift in creating vehicles that better utilize electric technology, isntead of solely relying on gasoline. The Grand Wagoneer concept is a great example of how they are making sure that all future Jeep vehicles get a taste of this technology. This vehicle uses a plug-in hybrid powertrain system that doesn't lose out on any power. Instead, it enables you to have a quieter open-air freedom sort of ride, with more power, and amazing mileage. While this is just a concept, it shows off all of the behind-the-scenes work that engineers are engaged in. For Jeep, the future is green, and we couldn't be more excited.
What technology is inside?
The electric technology that is underneath the hood is important, but so is all of the technology that you'll find throughout the Grand Wagoneer. Perhaps the biggest thing is all of the screen space that both front and second-row passengers have access to. There is about 45 inches of screen space up front, and around 30 inches in the second row. That is a lot of accessibility and control, and whether you're watching a movie, or better controlling the Grand Wagoneer itself, those are modern amenities that we want. You also get the benefit of a McIntosh audio system, which comes with 23 custom-designed speakers that have been connected to a 24-channel amplifier. We also want to make sure we mention the Uconnect 5 system, which delivers amazing operating speeds and personalization.
What are some of the comforts inside this SUV?
Even after checking out the technology, you might be wondering how comfortable this concept vehicle is. We are here to tell you that you will find all of the comforts you need. The interior is spacious, and can seat seven passengers with no problem, especially with the second-row captain's chairs. You an also make use of the customizable ambient lighting, which can offer a sense of tranquility for you and your passengers. Another bonus are the large glass windows that give you views that are unparalleled, along with the wood accents that really help set the Grand Wagoneer apart.
Jeep Inventory at Charlie's Chrysler Dodge Jeep Ram
Although the Grand Wagoneer is a concept, the rest of the Jeep lineup is waiting for you to check out! At our dealership we make sure that we have the best inventory of Jeep models for you to view and even test drive. No matter what your needs are, we are positive that we can get you behind the wheel of the vehicle that you want the most! Stop by today!